With a huge challenge like this walk, it is all about talking and awareness. Here is the media talking about the walk…
Tramper eyes the finish line
Rotorua Daily Post, By Alison King, 10:52 AM Friday Jul 31, 2015
Kylie Lang doesn't like to leave projects half done.
In October she will start the second half of her journey along the Te Araroa Trail, walking the length of the South Island and around Stewart Island.
Last year the Rotorua woman walked the North Island on her I'm Not Alone Walk, raising money for the Mental Health Foundation. Her fundraising tally sits at almost $14,400.
"When I came up with the idea, I wasn't sure if it would work," she said.
"I've applied things I've learned on that walk for this next one.
"The North Island was quite easy because it was day by day.
"There were a lot of towns along the way. The South Island is more remote."
She has divided up the route into sections, as those walking with her this time are more likely to have to accompany her for more than one day.
The premise is that she is never alone and so far she has someone set to walk with her for 75 of the 87 planned days.
"It does mean I've got less people involved but they are more into tramping. It's not casual strolling. It's challenging."
She has added in more rest days to allow for inclement weather, so they can stay holed up in a hut rather than walk through lightning storms.
"I've been able to create some more flexibility around it.
"There were days when I didn't want to go out [last time], but I had to."
The other changes she has made are to her gear. She is reducing her pack down to as light as she can go, aiming for 10kg and experimenting with home-made dehydrated foods.
One stage of the South Island will involve nine days crossing the mountainous Richmond Range.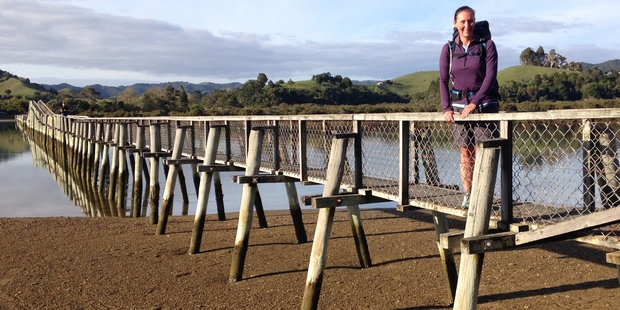 Among those walking with her are husband Graeme Jaques and people who walked parts of the North Island with her.
"The walking is hard but the people make it awesome. It was an amazing experience.
"I've learned that I don't give up. It doesn't cross my mind."
Ms Lang said she will blog the entire walk but she would only be able to update her website and Facebook page when there was a signal. To find out more click here.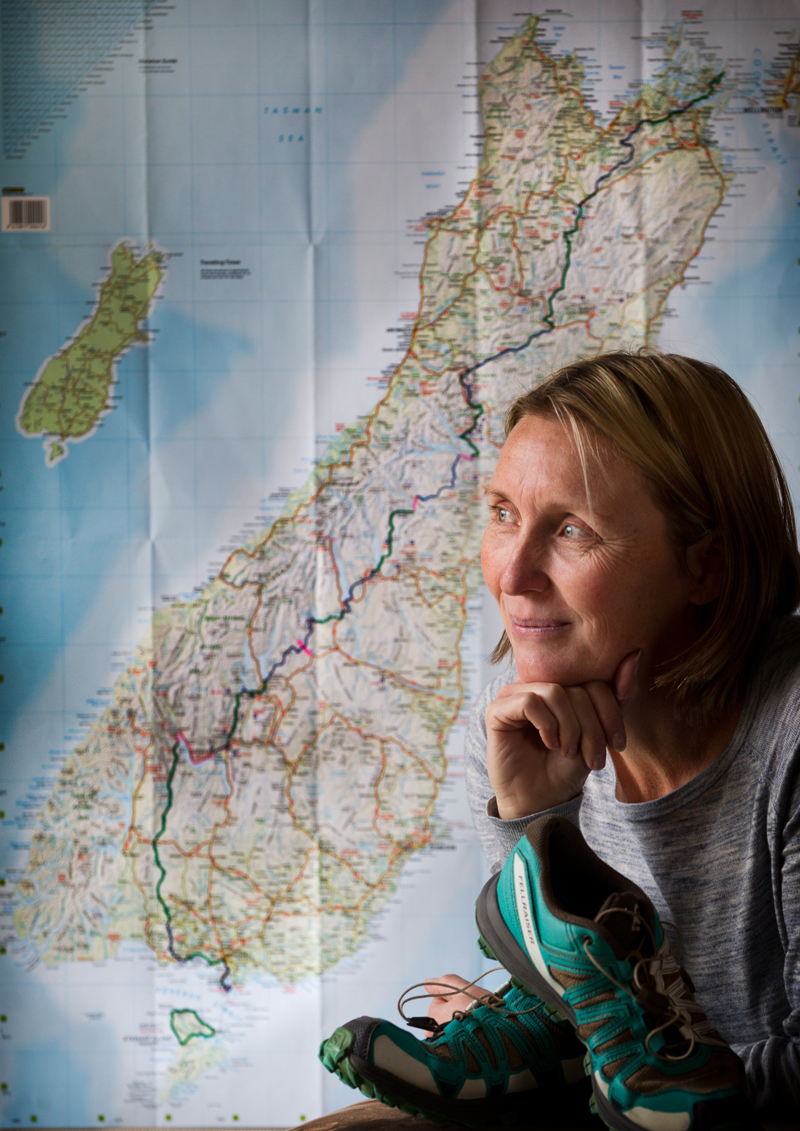 I'm Not Alone
What: Walk the length of New Zealand along Te Araroa Trail
Total distance: 3058km
North Island: 1700km, 72 days
South Island: 1300km, 87 days (planned)
Longest day: 35km
Shortest day: 8km
Funds raised: $14,371.72
Days left to be filled: 12
Chris Guillebeau Website The Art of Non Conformity
WALKING THE TE ARAROA TRAIL : KYLIE LANG'S QUEST
I love New Zealand, and when I heard the story of someone who set out to walk the length of both main islands, I had to hear more.
Introduce yourself.
I am a New Zealander who until recently led a pretty standard life as a coordinator of an online sports mentoring program. A few years ago, I got it into my head to walk the length of New Zealand—all 3058 kilometers of it, following the Te Araroa Trail. When I told my husband, he was concerned about me going alone, and that's when the quest got a theme: Not Alone.
I'd walk the length of New Zealand, but with a revolving cast of people the entire way. And we'd raise money for The Mental Health Foundation as we went.
Why did you decide to undertake your quest?
I believe people need to talk more. So much gets bottled up in our heads. We ponder, overthink, and make thoughts worse, until we talk them out. I handle situations better knowing someone else has heard about it.
Both my father and brother committed suicide—and I know I need to share those experiences and hear about others who have been in the same boat in order to make sense of it all. So why walk? Well, exercise clears my head and helps keep negative thoughts away. Walking and talking seem to go hand in hand.
What are the costs associated with walking across New Zealand?
I funded my walk myself. The final tally was $3,900 for equipment, food and accommodations.
What memorable encounter is fresh in your mind?
On my fifth day of walking, I asked a stranger we came across if he knew of anywhere I could camp. The man, Richard, took us to his home and showed us where we could set up our tents. He gave us eggs, oranges and raw milk, and let us use his shower and kitchen. We didn't really get a chance to talk to him, so I gave him my card as we left.
Two days later, Richard met up with us on the road, returned maps my walking buddy had left behind, and donated money to our fundraising campaign. He works in mental health and my quest resonated with him. I asked for a place to pitch my tent and in return received so much!
How did you overcome a low point in your quest?
One person who walked with me was extremely negative. I was fatigued from the day before and had hoped to rely on them from support. Instead, after some negative comments, they walked a few paces in front of me the whole time. Their behavior zapped even more energy from me, making my quest even harder at that moment.
So, I called someone who I knew would accept me as I was, where I was: my husband. Across the wireless line, he cheered me on, and reminded me this was just one moment, and that it would pass. And once I started appreciating the positive parts of the day, when strangers took me in for food and tea, it did pass.
Did you learn anything along the way?
After walking a full day with two girls from Seattle, we knocked on a farm house door and asked if we could camp on their land. A man led us to a paddock that his Dad had made into a golf course. Then, the man and his friends gave us drinks and chatted with us for a couple hours. These two men were rugged, swore every other word, and discussed fanny packs (which is very rude in New Zealand. Let's just say the word "fanny" here is not something we say in front of company).
I apologized to the two girls with me, but they laughed and said they had a great time. Honestly, I did too. Hospitality wrapped in any package is still a welcome, lovely thing to receive!
What kind of support did you receive from others, and how did they reach you?
Everyone who walked with me was supportive simply by showing up, but they also tended to bring me food, help with transportation, distract me from hard walking and share their life with me. Some people, like Richard, reached me on the road. Others contacted me through my website and Facebook page – and offered to let me stay in their homes, feed me, and even cleaned my clothes.
One memorable supportive moment came outside Palmy. My co-walker and I stopped at a gas station for some ice cream to give us a boost. Lester, the man who served us, jokingly asked if we'd walked far enough to deserve treats. When we told him what we were doing, and that we were finishing up a 33k walk for that day. Lester got out his wallet and donated right there to our cause.
What was walking and talking with so many different people like?
Because of the nature of my quest—raising money for the Mental Health Foundation—we often wound up discussing mental health. By my sharing my story so openly, it was as though the people walking with me had permission to share their experiences.
What's next?
I've only just completed the North Island, so still have the South Island to walk. I will begin recruiting walkers February 2015 and start walking near the end of the year.
Keep up to date on Kylie's quest (or sign up to walk with her!) at her site , walknz.org
Walk raises over $13k for mental health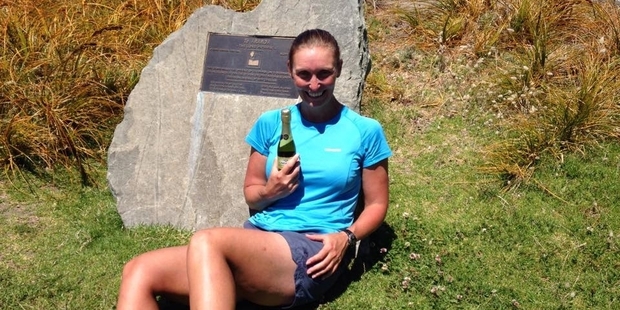 Rotorua's Kylie Lang has walked the length of the North Island and raised $13,700 for the Mental Health Foundation, but she won't stop there.
Ms Lang is the Rotorua Daily Post Person of the Month for December for her contribution to mental health fundraising and awareness, walking 72 days from Cape Reinga to Island Bay in Wellington on her journey called "I Am Not Alone".
She finished her walk yesterday and plans to walk the length of the South Island for the same cause next year.
"It's really exciting, I am really tired but it's a really good feeling to finish.
"A major highlight has been the people. I have had someone walk with me each day, so meeting new people and sharing the experience with others has been the best thing," she said.
She is planning to compile the stories she has heard on her travels into a book, but her immediate plans were to relax.
"My plans are to eat a lot at Christmas and to have a 10-day holiday in Melbourne with family."
Her walk has not only raised funds for mental health, but opened up discussions around mental health issues, she said.
"The walk has made a difference, even if it has just been the people that have talked with me and walked with me. We have had some deep conversations around mental health," she said.
Fortunately there were no mishaps or injuries along the way, she said.
"Everything went to plan, I had a buddy for the whole trip. A lot of it was quite remote especially up north.
"Kiwis are great people. Before I started I would think that Kiwis are generous and loving and really good people, but my walk has just cemented that." If you want to get in touch with Kylie Lang or join her for a leg of her South Island walk visit www.walknz.org.
Our People: Kylie Lang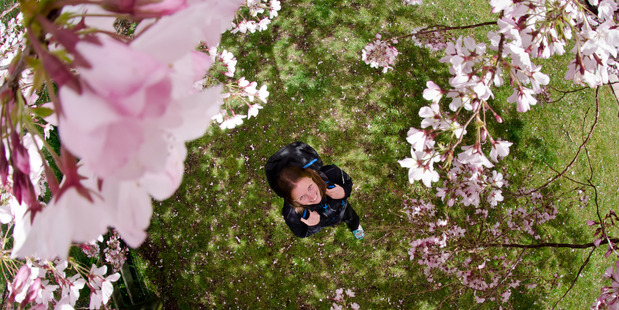 When you've run Rotorua's testing marathon, have the Tarawera Ultra Marathon in the bag and "knocked off" the Taupo Ironman what's next?
If you're Kylie Lang it's walk the length of the North Island, with the south lined up as her 2015 summer project.
This won't be just be any old trek, Kylie's undertaking it as a fundraiser for mental health and there's another twist, her plan's to walk with someone different every day.
The former district council events organiser ascribes to the "why wait until you retire to do things that get in the way of work?" school of thought.
With Ironman done and dusted "it was like tick, cool, that's done, I'm not going to do it again", she cast about for a new challenge; while taking an online look at the Te Araroa trail stretching from Cape Reinga to Bluff a light bulb flashed: she'd walk it.
"'What's stopping you?' came to the front of my mind then I thought it's always nice to share, when you walk alone you have no one to say to 'wow, look at that view', that got me thinking about a different person every day."
In May Kylie set up the 'I Am Not Alone Walk of New Zealand' website inviting others to join her for a day, it's become a hit, participants from across the Tasman have also accepted the challenge.
Never one to do things by halves Kylie had another brainwave. She and her fellow walkers would fundraise along the way with those signing on automatically pledging $200 to the Mental Health Foundation. Why mental health, we ask? The answer's intensely personal.
Kylie's father took his life when she was 4, her 19-year-old brother followed a similar path when she was 21.
"Having two in the family to die like this is hard, very hard; when you are 4 you don't quite understand but with my brother it was a lot harder."
It also made Kylie realise self-inflicted death's not a subject people tend to talk about.
"What's fantastic about planning this walk is that people wanting to get on board are opening up, I've been amazed by how many families have been affected by mental illness, talking about it makes it much more acceptable; Robin Williams' recent death's stirred up a lot of interest in doing something about it."
With her walk scheduled to start on October 13 Our People set ourselves a challenge of our own, it was to find out exactly who this Kylie Lang person is. Her council role made her name familiar but what of the woman behind it?
Knowing nothing about her left us without pre-conceived perceptions and, yes, first impressions do count.
Vitality bounced off the women who opened the door to us, she radiates the stuff and is a great conversationalist – ideal for someone who plans to talk with someone different every day for 10 weeks.
We quickly learn Kylie hasn't only suffered the tragedy of losing her father and brother but that rejection's also slapped her in the face.
At 17, she dipped out on being selected for the 1990 New Zealand Commonwealth Games swim squad by a second. Butterfly "the hardest" was her stroke of choice and she'd been a Bay of Plenty rep swimmer but the Commonwealth Games knock-back turned her off swimming competitively.
"I've never regretted it but when I watched this year's Commonwealth Games I realised [missing out] was perfect for my role as a sports mentor."
Kylie mentors 17 sports-oriented students online. "I love it and use my Commonwealth Games experience to help prepare them for disappointment."
With her serious pool days behind her Kylie enrolled at Massey, graduating with a Bachelor of Education but didn't immediately teach, instead becoming the Arawa Swim Club's coach, followed by a couple of years as a gym instructor.
After a trip to Europe and South Africa "I feel in love with Africa, I'm addicted, been back seven times", she did move into the classroom, working at Western Heights then Owhata primaries.
"It was awesome but one day I decided I didn't want to be a burnt out, grumpy teacher when I really wanted to be an amazing teacher."
Next stop the district council. "I'd studied sports and event management in some post-graduate papers so I kind of fitted in."
The role was to be temporary, covering for a staffer on maternity leave. "I tell my job- hunting friends you have to look for where the pregnant women are, they are going to take some time off."
The maternity cover job led to her appointment as the council's community programmes and events co-ordinator – a wide-ranging portfolio which saw her working closely with Sport BOP for Walktober, embrace the inaugural Fire and Ice Festival with January's GLO Festival her swan song.
With each job she's had she's continued to sate her travel lust. "It used to be in three-yearly cycles then got to the stage where I was asking myself 'why so long between trips?', now it's six weeks every year."
Apart from intensive "on the hoof" training, preparation for Kylie's trek's included honing her camping skills. "I want to be able to put a tent up with my eyes closed."
And there's a self-imposed incentive to finish on schedule; she's booked to visit Melbourne on December 27.
"The date's my reminder to make it down the North Island in time to catch the flight."
To support Kylie's walk donations to the Mental Health Foundation can be made via www.fundraiseonline.co.nz/KylieLang/.
KYLIE LANG
Born: Palmerston North, 1974.
Education: Levin and Palmerston North primaries, Whakatane
Intermediate and high schools, Rotorua Girls' High, Massey
University.
Family: Husband Graeme Jaques (marrying two years ago) parents Barry and Janice Lang, one
brother, "our blind cat".
Interests: Walking, reading "real life adventures, nice thrillers",
"experimental" cooking, travel, relaxing at Papamoa beach house.
Personal Philosophy: "If life gives you lemons make lemonade."
Walker needs company – WAIRARAPA TIMES-AGE
WALK WITH ME: Kylie Lang is calling for people to join her on her charity walk on the Te Araroa Trail for the Mental Health Foundation
WALK WITH ME: Kylie Lang is calling for people to join her on her charity walk on the Te Araroa Trail for the Mental Health Foundation
To raise awareness of mental illness, Kylie Lang is trekking from the Cape to the Bluff – and is stopping in Wairarapa on the way.
Ms Lang, of Rotorua, will be walking the Te Araroa Trail – stretching the length of the country – starting in October.
However, she's not going it alone and is calling for walkers to join in and trek a section of the walk alongside her.
Ms Lang, who will first be walking the length of the North Island, has coined her charity walk the "I'm Not Alone Walk of New Zealand", to capture the importance of social inclusion for people living with mental illness.
It will take her 72 days to walk 1611km, and she is inviting people to join her for a day's walk on one of the trail's 58 North Island tracks.
Wairarapa-based walkers can tag along with Ms Lang as she passes through the Tararuas – some of the country's most challenging terrain – from December 13-21.
Ms Lang hopes her journey will encourage others to be active, enjoy the outdoors, and do different types of activities with a positive support network – all of which can help with recovery from mental illness.
"It's about engaging with people and inspiring them to set a goal," she said.
"This walk symbolises doing things together, talking time out and how important support is for our mental health."
Ms Lang was inspired to raise awareness of mental illness as she has lost two members of her family to suicide, and had a partner who struggled with depression.
"The more I talk about mental illness, the more others talk, and that is what I am trying to achieve.
"Mental health issues are so common. We should all be talking more."
Ms Lang is also receiving sponsorship and all funds raised will go towards the Mental Health Foundation.
She already has 34 walkers signed up for the trek – four of whom are flying in from Melbourne – and will be tackling the South Island after having rested from her North Island walk.
For more information on the walk, contact Kylie Lang via email at kylie@walknz.org, or visit www.walknz.org
Donations can be made via www.fundraiseonline.co.nz/KylieLang/
Introducing Laura who is walking Day 39 with Kylie
How I found my strength
Laura O'Flaherty clearly remembers a time when, struggling with depression and anxiety, she tipped the scales at 90kg and was often too scared to leave the house. 'When I think about what my life was like, all I know is I will forever fight for myself not to go back to that,' says Laura, 27.
The motivational Papamoa mum of two believes losing 32kg played a major role in overcoming mental illness.
'I enjoy life now and I take risks and do things that take me out of my comfort zone on an almost daily basis.'
She is now a qualified personal trainer, meaning she's well equipped for Tough Mudder.
'I've been through a lot in the last few years. This is proving to myself I can overcome anything 
I put my mind too,' she says. 'Mental illness is not something I think you ever completely get rid of but you learn to manage it, and being fit and healthy is one of the ways I do that. Being physically strong makes me feel strong in other areas of my life too.' Laura says her determination has had a huge impact on sons Xavier, nine, and Malachi, four.
'I take the boys with me when I go to CrossFit. It's really good for them to see me looking after myself and I hope I am teaching them to keep a healthy mentality throughout their lives.'
********************************************************
Mental Health Foundation In Touch Newsletter
Stepping up to walking challenge
Every step that Kylie Lang takes from 13 October will bring her closer to her goal – walking the length of New Zealand.
Kylie has taken on the mammoth 3000km walk to raise money for us, and she's looking for people to support her by walking a leg of the route with her, or contributing to the fundraising.
The Rotorua resident wants to raise $30,000 by the start of the walk, which she's appropriately named the I'm Not Alone Walk of New Zealand.
"When I first talked to my husband about it, he said 'well, you can't do that on your own'," Kylie says.
"I agreed that it wouldn't be that nice on my own – it would be nicer to share it. The fundraising is a big part of that too, because with other people signing up, I'm not doing that on my own either."
The prospect of walking for 72 days, up hill and down dale, from Cape Reinga to the Bluff, would terrify most people, but Kylie is no stranger to endurance events. Over the last few years, she's completed a marathon, ultramarathon, and the 2014 Taupo Ironman.
The 40-year-old has thought about walking the length of Aotearoa for quite some time, but her decision to do it now – and fundraise for us – is very personal.
"When I was four years old, my father committed suicide. That's been a real void in my life – not having a dad. Then, when I was 21 my brother, who was 19 at the time, took his life.
"Part of me doing this journey is so I'll talk about it. I want people to feel like they've got support and they can talk. Everyone goes through down moments, but it's okay to call out for help and get support from those around you."
Kylie, a qualified life coach, is also passionate about promoting our Five Ways to Wellbeing – Connect, Be Active, Take Notice, Keep Learning and Give.
"The Mental Health Foundation fits with what I am trying to achieve and I have always loved supporting good causes," she says. "When I'm walking, I'll be practising all of the Five Ways. It doesn't matter what stage you're at – if you do them, you'll feel good."
Just as every step will bring her closer to each destination, every fundraising dollar collected will help her reach her goal of raising tens of thousands of dollars for our work.
"When you set goals and keep fit, you feel better," she says. "You can handle things better. Exercise clears my head and when I focus on a goal and work away at it, there is a purpose to my days."
Kylie needs 58 people to sign up for the North Island part of her New Zealand trek – one for each leg of the trip.
More than a dozen people have put their hands up so far, including a woman from Melbourne who has pledged to fly over for her part of the walk.
Once Kylie has reached Wellington's Island Bay on 23 December, she plans to take some time out to recover before heading over Cook Strait.
"I could walk the country by myself, but I've made this into something more worthwhile and bigger. I've got my story, and I'm not alone because the person walking next to me has their story too. It's going to be amazing."
To find out more, or sign up for the I'm Not Alone Walk of New Zealand, visit http://walknz.org/ or www.fundraiseonline.co.nz/KylieLang/
ENDS
Rotorua's Kylie to walk length of NZ
By Alison King alison king@dailypost co nz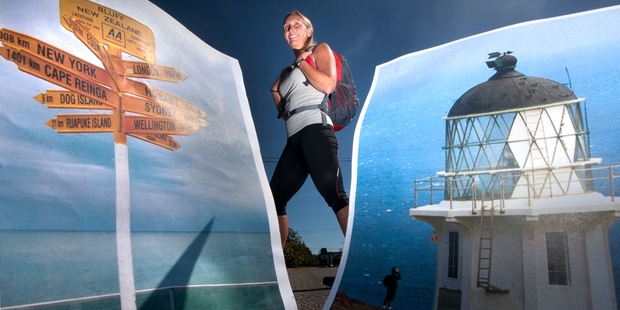 TOP TO TOE: Kylie Lang is looking for walking partners to join her on her big trek. PHOTO/BEN FRASER 270314BF6
When Kylie Lang told her husband she wanted to walk the Te Araroa Trail – from Cape Reinga to Bluff – he blurted out "you're doing that alone".
And so her newest project was born.
I Am Not Alone is the name the former Rotorua community events organiser has given the 72-day walk, and with it a sense of purpose to raise money for the Mental Health Foundation. It forms one aspect of her work-free year, which she blogs about.
Ms Lang said she's had the busiest time of her life with fitting in personal challenges.
"In the start I was going to walk it by myself, but it's not something I want to do on my own," she said.
"It's an experience to share but also for safety. With the idea of not being alone I got on to the idea of raising money for the Mental Health Foundation – not being alone and talking to people and it's grown from there."
Choosing the Mental Health Foundation as beneficiaries of the walk was an easy choice for Ms Lang. Her schizophrenic father killed himself when she was 4, and her brother also killed himself when he was 19.
She has also had a past partner go through depression.
"It's not something I've talked about and even close friends wouldn't know about my family and what's happened but it fits with the theme quite well. I can tell from my experience that it's not nice to talk about and it's not a comfortable thing but I've had people have amazing conversations with me as a result."
The I'm Not Alone Walk involves 58 legs comprising the North Island section of the Te Araroa Trail – she's unsure if the South Island walk will continue straight after or the next year. The shortest walk is 12.5km, the longest 37.5km. Two weeks ago she launched her website and Facebook page to find people to walk with. She wants a partner for every section and they will be asked to raise $200 for the Mental Health Foundation.
Already five people have signed up for specific legs – including the 37.5km walk – and she has others yet to decide which bit they want to walk. One is flying from Melbourne for the leg from Waipu.
"I'd love some people to set it as a goal to train up for and get fit enough to handle it."
The walk starts at Cape Reinga on October 13. For more about the walk and how to help, visit walknz.org/.
Challenges on the horizon – The Mental Health Foundation
Kylie Lang – I'm Not Alone Walk of New Zealand

On October 13 this year, Kylie will be setting off on the 'I'm Not Alone' Walk of New Zealand – a 58-day expedition that will see her walk the length of the country in the name of togetherness, and to raise money for the Mental Health Foundation.
Along the way Kylie hopes to encourage New Zealanders to Connect and talk with one another about the things that are bothering us, and to help us all understand the benefits this can have for our individual and collective mental health.
If you're keen to get involved and support the cause, you can donate here, or sign up to walk alongside Kylie for a day and make sure she is Not Alone on her journey (Kylie needs 58 people to walk with her in total – one for each leg of the trip).
Check out Kylie's website for more information regarding this event.